2014 Hunger in America Study Released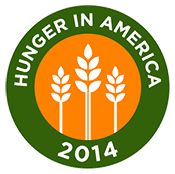 Largest, Most Comprehensive Analysis of Charitable Food Assistance in America Reports more than 215,000 Served by Kansas Food Bank Annually
A new study by the Kansas Food Bank and Feeding America shows that 1 in 7 people, or an estimated 215,300 people, in the Kansas Food Bank's service area turn to food pantries and meal service programs to feed themselves and their families. This includes 68,900 children and 19,900 seniors.
The Hunger in America 2014 local findings show that 22,100 people are served each week by agencies supported through the Kansas Food Bank. Accounting for multiple agency visits, 1,468,900 clients turned to Kansas Food Bank network agencies over the course of the year. This means clients are visiting Kansas Food Bank network agencies an average of 7 times a year.
The study documents household demographics and offers a snapshot of the people served by the Kansas Food Bank – their circumstances, the challenges they face and the choices they are forced to make living on extremely limited household incomes. It is also the first nationally-representative study that assesses the prevalence of past and current members of the U.S. Military and adult students receiving charitable food assistance.
Read more and download the full report on our Hunger Stats page.