A Bit of Food Bank Trivia!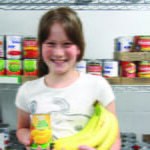 Have you ever wondered just how many meals the Kansas Food Bank has helped provide?  Well, we happen to have the answer!
Since the very beginning when we started service in 1984, the Kansas Food Bank has helped to provide 124,151,057  meals to hungry families and individuals.
And that is all done with the help of thousands of volunteers and supporters of our work!  Thank you for helping make a difference for so many of our hungry neighbors.