Bob Box – Phase II is Underway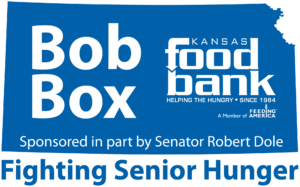 In the fall of 2012, the Kansas Food Bank unveiled Bob Box a program designed to fight senior hunger.  The program started in 25 Northwest Kansas Counties.  During the first year over 1,500 seniors received support from this program.  Bob Box is designed to help seniors who experience hunger but are too proud to ask for assistance.  These are seniors who would rather go without before seeking help.
We are happy to announce that Phase II, an additional 24 counties in Southwest Kansas are on board.   Local county health departments and senior centers help us with distributing boxes to seniors in need in their respective counties.