Cessa Car, Truck & Bike Show – July 31, 2010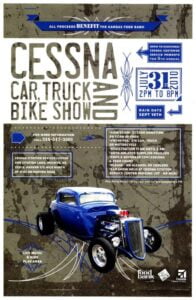 Cessna Customer Service Center presents the 5th Annual Car, Truck and Bike Show to benefit the Kansas Food Bank this upcoming weekend, on July 31st from 2:00 pm to 8:00 p.m. It all takes place at the Cessna Citation Service Center, One Citation Lane – 2121 S Hoover (1/2 mile north of K-42 on Hoover Rd).
Admission is $1 cash donation or 1 can of food
Entry fee: $15 Car, Truck or Motorcycle
Registration is from 11:00 a.m. to 2 p.m.
For more information please call 316-517-3501
There will be live music as well as a kids play area, a vendor pavillion and a food court!
ALSO…a Pine Derby Race at 4:00 p.m. Bring your own car and compete!