Eagle Scout Project Provides Great Signage for Mobile Pantries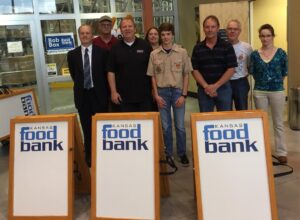 Jarrett Barton reached out to us regarding his Eagle Scout project almost a year ago.  He was interested in doing something for the Kansas Food Bank and wanted something that would be used a lot and make a difference.
After visiting with him, it was decided that he would like to take on the project of making signs for us that could be used on our mobile pantry distributions.  We wanted and needed something that would be sturdy enough to withstand the Kansas wind, especially in western Kansas.  Plus we needed something that would be easy to transport and store.
Jarrett did his research and came back with a design that was approved.  He then made a mock up sample for us to review.  And the finished product is absolutely amazing!  Jarrett even incorporated a recycled handle into the project as we had requested that he use some sort of recycled material in the project.
Using whiteboard we will be able to write in information on the signs about each specific distribution.  We also wanted our logo on the signs for brand recognition.
Jarrett said the total project took 305 hours to complete.  In the end, we have 15 great new signs to use at our mobile pantry distributions across the state.
We are very proud of Jarrett and want to extend our heartfelt thanks for choosing the Kansas Food Bank for his Eagle Scout Project!