East Wichita Dentist is Helping Stock the Shelves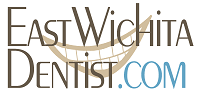 Now thru September 31st, East Wichita Dentist is offering a special promotion which will in turn help feed hungry Kansans.
Dr. Tom Fankhauser is offering the following special: $500 off new orthodontic treatment.  In exchange, a donation of $150 will be given to the Kansas Food Bank in honor of the new client.
Dr. Fankhauser is a 1971 graduate of Wichita State University and a 1974 graduate of the University of Missouri at Kansas City School of Dentistry.
For more information, please call 665-4491.