Feeding the hungry a Christmas tradition since 1843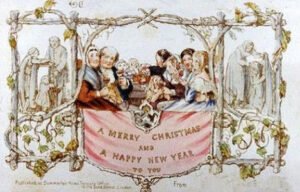 Hunger is not a problem brought on by the holidays. People are affected by hunger every day of every month, which makes our work at the Kansas Food Bank a year-round endeavor. Nevertheless, every year at Christmas time we see a dramatic increase in the number of people wanting to do something to help feed the poor. Its a tradition so familiar you probably never bothered to wonder, "Why Christmas?"
We wondered. And here's what we learned:
Blame the British author, Charles Dickens, who with purposeful intent in 1843 wrote and published a story he predicted would come down "like twenty-thousand…  slegde hammers."
Dicken's story, "A Christmas Carol," was a social commentary on the industrial revolution and the resulting disparity of the social classes. Drawing on his own experiences of poverty and childhood servitude (his father was thrown in debtor's prison leaving Dickens to fend for himself as a factory worker at age 12), Dickens' wove a haunting story about the miserly Ebeneezer Scrooge and the corrosive effect greed had on his own life and others'. "A Christmas Carol" had an immediate and dramatic impact on English culture, popularizing the celebration of Christmas and forever tying acts of charity to Christmas traditions. 
In one notable example of this, an English artist named John Calcott Horsely — in the same year that "A Christmas Carol" was published — designed what became the first commercially produced Christmas card. This card featured three images:  a family toasting Christmas appeared in the center, flanked by smaller images of the hungry being fed and the naked being clothed.
And now you know!