Filling the Gap – Spring Break 2014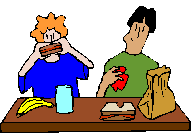 Spring Break is here!  The Kansas Food Bank and Partners for Wichita are gearing up to provide meals to children across Wichita. We know that for some children, the meal they get at school may be the only real meal of the day.  Vacations from school can be a difficult time for a child who depends on that school lunch.  Filling the Gap will help by providing meals to children between March 17th and March 21st.
We are still accepting donations of individually packed healthy snacks and fresh fruit!
Click Here for a map of the sites that will be providing meals this spring break.