Good Food For All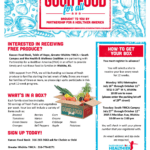 Update 7-15-2021 – Registration has been completed for all 1,020 boxes that have been allocated for our community. There has been an overwhelming response and we are very excited to start the program.
Attention families of 3 or more, a new program to receive fresh produce is coming to Wichita. The Kansas Food Bank and Table of Hope MCC formerly First MCC of Wichita, the Greater Wichita YMCA and the Health & Wellness Coalition of Wichita have teamed up with Partnership for a Healthier America for "Good Food For All" a special 12 week fresh produce distribution. This program sponsored by Partnership for a Healthier America is offered to households of 3 or more and will start at the end of July.
There will be two locations (north or south) that participants can select where they will pick up their food boxes.
NORTH location – 5015 E 29th St N (29th and Oliver) Monday pick up starting July 26, 2021
South YMCA location – Richard A. DeVore South YMCA – 3405 S Meridian (Meridian and I-235) Tuesday pick up starting July 27, 2021