Holiday Food Drives are in Full Swing

It's the time of year when everyone starts to think about food drives.  And we appreciate each and everyone of those food drives that help us provide missing meals for our hungry friends and neighbors.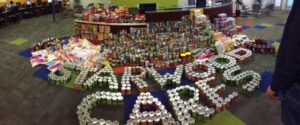 If you would like to hold a food drive for us, know that we have bins, barrels, boxes and posters available for you to pickup Monday – Friday.  Just give us a call and let us know what your plans are.
We can also help pick up if you collect too much to transport in a personal vehicle.  Pickups can be arranged on Tuesdays and Thursdays only by calling us at 265-3663, ask for Debi.