Save the Date! Saturday, May 12th is the Stamp Out Hunger Food Drive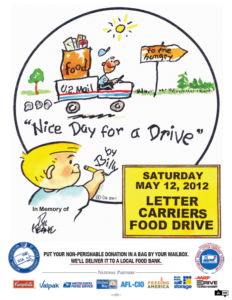 Each year, the 'Stamp Out Hunger' drive takes its place as the largest single-day food drive in America.  It's quite apparent how much letter carriers care about fighting hunger in America.  This amazing campaign which our Letter Carriers participates in, helps us collect enough food to provide approximately 190,000 meals for our hungry friends and neighbors.
Local letter carriers will be distributing specially marked bags to homes the week of the food drive.  Residents are simply asked to place non-perishable food items in the bags and leave them on Saturday morning for their postal carrier to pick up.  NetApp has generously provided the Kansas Food Bank with 270,000 bags to assist in the collection process.  Communities across our service area will be participating with food collected locally going to our HungerCare partners.
This food drive is especially important to the Kansas Food Bank since summer tends to be a time when our agencies experience an increase in the amount of families looking for food assistance.  Children are out of school and additional meals are needed.  The Letter Carriers food drive helps us keep up with the demand.
So remember to save the date and help us "Stamp Out Hunger".  Together we can make a difference!