September is Hunger Action Month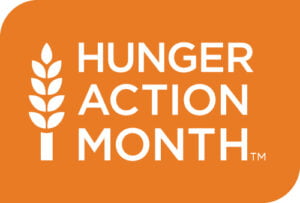 September is Hunger Action Month and the Kansas Food Bank will once again host an open house and special volunteer activity day.  This year's date is Thursday, September 18th.
We are offering tours every half hour.  This is a great opportunity to come get an inside view of all that happens here as we process 12 millions pounds of food a year to help provide for those who experience food insecurity.
Volunteer activities and times will be offered between 8 a.m. and 8 p.m.  There will be special packing events that anyone can help with from the young to the young at heart.  From individuals to groups, we should have an activity that anyone can participate in.
We will be doing the following on Hunger Action Day:
Packing Food 4 Kids weekend backpack food packets

Repacking & labeling cereal in bags
Would you like to do something for Hunger Action Month?  Hold a "Healthy Food" drive!  Help raise money with the Child Hunger Action Hero program!  Talk about hunger in our community!  Do something that says:  I am making a difference!
For information on volunteer times, please contact Larry at 265-3663.