Siena Plaza Car Show is September 11, 2010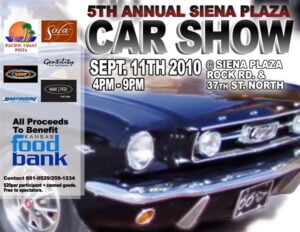 The 5th Annual Siena Plaza Car Show is scheduled for Saturday, September 11th from 4:00 p.m. to 9:00 p.m. at 37th and Rock Road. 
Come out and enjoy the cars on display, listen to the steel drum band and visit with the Kansas Food Bank staff as they serve up hamburgers and hot dogs. 
Entrant fee is $20 plus canned goods for the Kansas Food Bank.  Spectators get in free.
For more information call 259-1234 or 681-0529.