Taco Bell & Pizza Hut Customers Raise Funds for Food 4 Kids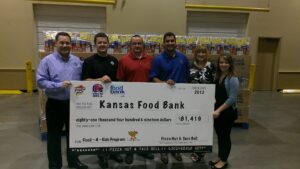 Taco Bell & Pizza Hut restaurants across Kansas operated by Fugate Enterprises engaged their customers during a four week promotion to become a "Child Hunger Hero".  Customers were asked to donate $1 to the backpack program.
"We are proud to support the Food 4 Kids program," said Geoff Graves, Senior Director of Operations for Taco Bell, Fugate Enterprises.  "Our Taco Bell and Pizza Hut families understand the importance of this program and customers rallied around the fact that money raised locally supported children right in their own community."
Money raised in each of the forty-eight communities where Fugate operates Taco Bell & Pizza Hut restaurants will be allocated to support the Food 4 Kids program in each respective community.  This includes five communities located outside of the Kansas Food Bank service area.  Harvesters, a sister food bank to the Kansas Food Bank will receive funds raised by the stores in their service area for their backpack program.
The Food 4 Kids Backpack Program currently serves over 6,400 students every Friday during the school year across 369 schools in 107 districts.  These are students who are identified as chronically hungry and who do not have access to food on the weekends.
"The Kansas Food Bank team wants to thank everyone across our service area who participated in the Child Hunger Hero program" Brian Walker, Kansas Food Bank President & CEO.  "Truly the level of community support was outstanding."