Thinking about meals when kids are not in school….
When school is not in session, many kids wonder where their next meal will come from.  Thanks to our community partnerships you can help ensure children have access to meals during the summer.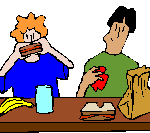 Filling the Gap – Summer Meals – Wichita
Partners for Wichita will be offering meals after the Summer Food Service Program ends in July at 15 locations across the Wichita area.