Tours on the Half Hour set for September 14th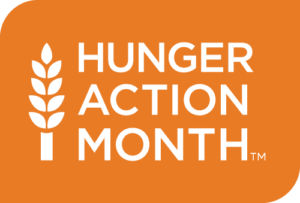 September is Hunger Action Month, and we are asking everyone across Kansas to take action against hunger in their communities, all month long!  Hunger Action Month is your opportunity to join a movement that has a real and lasting impact on our efforts to feed more hungry Kansans than ever before. Whether it's by speaking out and raising awareness, making donations or volunteering, everyone can find a way to make a difference during Hunger Action Month.
On September 14th, the Kansas Food Bank will hold our annual open house where we will be offering "Tours on the Half Hour" as well as special one day volunteer activities.
"Tours on the Half Hour" will be an opportunity to see the inner workings of the Kansas Food Bank.  Our guests will get to experience the big freezer, see how food comes in, how it goes out and everything that happens in between!
Tours will be conducted the following times:
8:30 a.m., 9:30 a.m., 10:30 a.m., 1:30 p.m., 2:30 p.m., 3:30 p.m. and 4:30 p.m.
One Day Volunteer Activities:  we will be packing backpacks, food boxes and sorting food.
Volunteer activities will take place in two hour blocks:
7:30 a.m. to 9:30 a.m.
10:00 a.m. to noon
1:00 p.m. to 3:00 p.m.
3:30 p.m. to 5:30 p.m.
To volunteer on September 14th, please call Debi at 265-3663.