Volunteers, donors bring Thanksgiving to many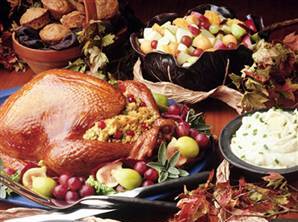 Thanks to generous donors and volunteers working with the Kansas Food Bank and our numerous hunger-relief partners, thousands of Kansas families will be able to enjoy a traditional Thanksgiving feast this week. Last week, Wichita's Bread of Life handed out turkeys and food boxes to 3,000 families. More charities will be providing food and serving Thanksgiving meals this week, all with the help of the Kansas Food Bank and made possible by generous donors and volunteers.
Monday November 23 – Wednesday November 25
United Methodist Open Door is collecting food and turkeys for food boxes during
Thanksgiving time. Recipients must be established with the Open Door food bank program
and must not have received a food box for the month of November. Recipients will need to
bring current identification for each household member, proof of income, and proof of
address. Distribution will be held Nov. 23rd – Nov. 25th from 9-11:45 am & 1-3:45 pm at
1611 N. Mosley. For more information contact UMOD at 267-4201.
Wednesday, November 25
The 31st Annual YMCA "We Care Dinner," sponsored by Westar, Honeysuckle White "More
to Share" and Syl's Catering will be held from 11 am – 2 pm at the Central Branch YMCA,
402 N. Market. Winter items such as coats, gloves, and scarves will also be available.
Tickets for the event may be picked up at several service agencies around town, including
the YMCA. For more information, contact 264-4066 ext. 230.
Thursday, November 26
The Salvation Army will have a Thanksgiving Day Dinner at the Citadel Corps, 1739 S.
Elpyco from 11:30 am – 1:30 pm. Shuttle service will be provided from the Salvation
Army, 350 N. Market, starting at 10:45 am. Please call 685-8699 for more information.