We are "Growing to Serve"!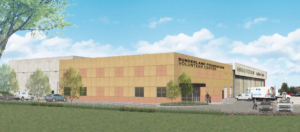 We are happy to announce that we have reached and exceeded its $5 million "Growing to Serve" capital campaign goal.  We will use the funds to expand our Wichita warehouse with a 21,000 square foot addition, including a new volunteer center, more warehouse space and more freezer and cooler space to provide more fresh fruits and vegetables throughout our service area.
Kansas Food Bank currently serves 12.3 million meals annually to more than 215,000 unduplicated individuals through more than 700 hunger-relief partners in 85 counties.  When the capital improvements are complete, we expect to increase annual distribution to more than 13.3 million through increased volunteer effort, including doubling fresh produce distribution.  Construction is expected to begin before the end of 2018 and be completed by May 2019.
"With 1 in 7 people in our community in need of food assistance and an increasing number of Kansans who are living with health-related diet restrictions, the Kansas Food Bank realized that the time to act is now," Brian Walker, President & CEO of KFB said.  "There is a growing need across our service area, especially in the most rural parts of our community, to provide access to healthy food options.  This campaign is in response to the need for additional volunteer space to help fulfill of our mission to provide hunger relief wherever and whenever possible."
Improvements made as a result of the campaign will also focus on enhancing the volunteer experience at KFB.  With the addition of dedicated work space in the new volunteer center, KFB will be able to accommodate groups of up to 100, five times greater than the number that can currently volunteer at one time.  Volunteers directly impact the distribution process by quickly and efficiently sorting and packaging food for hunger-relief partners across the state.
The campaign launched in late 2016 and has received support from 42 generous individuals, corporations, foundations and organizations.  The lead gift was provided by the Sunderland Foundation of Overland Park, KS.  In grateful recognition of their generosity, the new volunteer center will be named the Sunderland Foundation Volunteer Center.
"As a long-time partner with the Kansas Food Bank, we could not be more grateful for and inspired by the work of this organization in the fight against hunger throughout Kansas," Kent Sunderland, President of the Sunderland Foundation, said in a written statement.  "We were impressed with the Food Bank's vision to increase fresh produce distribution to hungry Kansans living in our community's most rural areas."