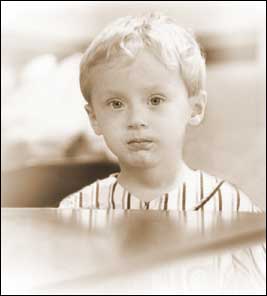 Over the past 10 years, the Kansas Food Bank's outreach to kids has expanded to meet the needs of school children who are not getting sufficient food outside of school on a regular basis.
In 1989, two young brothers in Savannah, Ga., were discovered late one night in the kitchen of their housing project's community center. The older brother had broken into the kitchen to feed himself and his younger brother. In response to this glaring example of childhood hunger in their community, the first Kids Cafe was started. In 1993, America's Second Harvest launched the program nationwide.
In 1994, the Kansas Food Bank opened its first Kids Kitchen at the Boys and Girls Club of Oaklawn. The second Kids Kitchen was opened in August, 1996, at the Boys and Girls Club at 21st and Grove.
The Kids Kitchen is a program designed to provide nourishing meals to underprivileged children in a safe, accessible environment. This program feeds at-risk children a nutritionally sound evening meal while they participate in activities, such as tutoring or recreational programs. This program was started to provide a nutritionally adequate meal to at-risk children; educate children about nutrition and healthy eating habits; and educate children's parents about nutrition.
Since the first dinner meal was served at the Kids Kitchen in 1994, an average of 300 to 350 children a day have been eating a nourishing evening meal per day. The Food Bank funds the Kids Kitchen program, providing food and supplies needed for meal preparation and funds the salaries of the kitchen workers. Corporate and community support helps to maintain and expand the program.