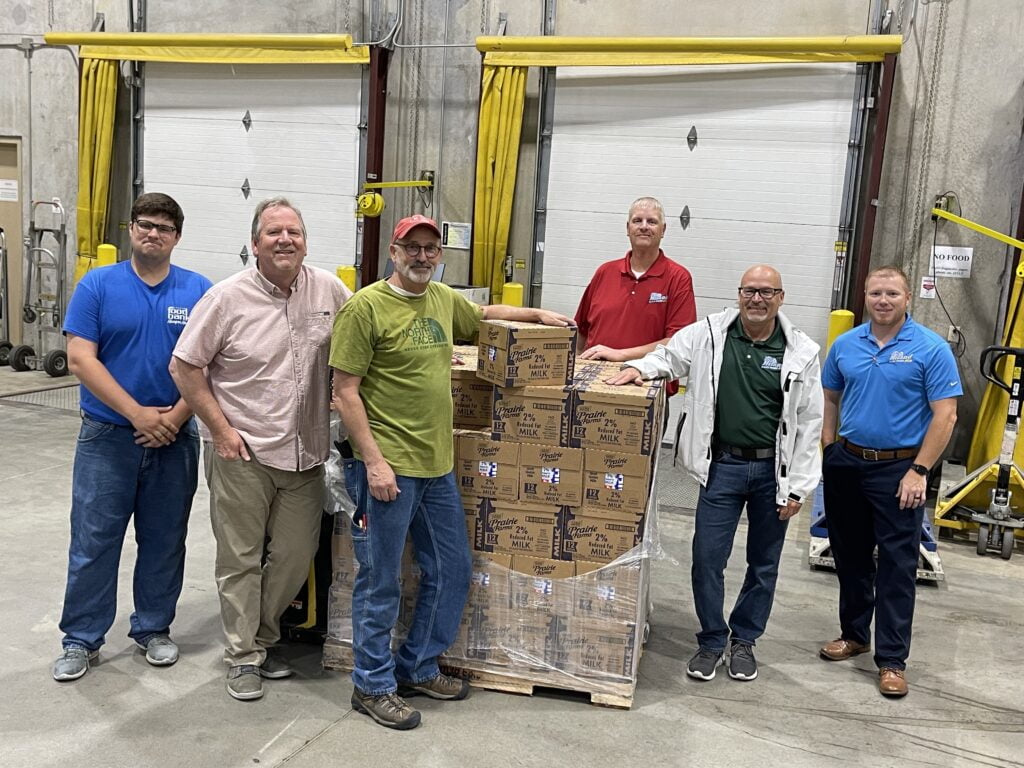 Hiland Dairy is kicking off World Milk Day on June 1st and National Dairy Month in June by partnering with the Kansas Food Bank as one of 15 Feeding America® network food banks across a six-state area. Thanks to the generosity of Hiland Dairy, the Kansas Food Bank received a pallet of shelf-stable milk, which will provide much-needed relief to many of our neighbors facing high costs at the grocery store.
The donation also celebrates Hiland's 85 years of providing milk and dairy products to American families. Hiland Dairy and its farmer-owners are working hard to produce safe, nutritious dairy and get it to those in need. World Milk Day on June 1st and National Dairy Month in June provide an opportunity to amplify that message.
Below is the complete list of Feeding America member food banks receiving donated milk as part of this celebration. The Kansas Food Bank is incredibly thankful to Hiland Dairy for their generosity and long-standing dedication to providing safe, nutritious dairy to those in need.
Central Texas Food Bank
Houston Food Bank
North Texas Food Bank
San Antonio Food Bank
Tarrant Area Food Bank
The Regional East Texas Food Bank
The Food Bank for The Heartland
Ozarks Food Harvest
Harvesters
Arkansas Food Bank
Arkansas River Valley Regional Food Bank
Kansas Food Bank Warehouse
Northwest Arkansas Food Bank
Regional Food Bank of Oklahoma
Community Food Bank of Oklahoma
---
About Hiland Dairy Foods Company
Hiland Dairy, based in Springfield, Missouri, is a leading farmer-owned dairy food company. Their widely loved products include milk, dips, cottage cheese, flavored milk, sour cream, ice cream, butter, cheese, and eggnog. In addition, Hiland Dairy has expanded beyond dairy and produces and distributes various other beverages, such as Red Diamond Tea, lemonade, and fresh juices.

A farmer-owned company, Hiland has almost 4,000 employees throughout Arkansas, Iowa, Kansas, Louisiana, Missouri, Nebraska, Oklahoma, Tennessee, and Texas. Hiland's farmer-owners are just miles from the Hiland processing plants, where our milk goes from the farm to the shelves within 48 hours. Hiland strongly believes in the community and is committed to our environment. Using eco-friendly processes, Hiland continues to provide wholesome dairy to a healthy world. Learn more
at http://www.hilanddairy.com/company/media-center.