National VOAD (Voluntary Organizations Active in Disaster) is a coalition made up of 70+ various types of organizations, including community-based and faith-based groups, government and non-government agencies, and has US as well as international members. The coalition promotes coordination and collaboration amongst members to more effectively deliver resources, services and assistance to communities affected by disaster.
Recently, the National VOAD conference was held in St. Louis, MO, and the Kansas Food Bank Director of Operations, Bruce Bartel (pictured far right below), attended on behalf of the Kansas VOAD coalition, and alongside many other Feeding America network members and staff from across the country.
Along with the opportunity to collaborate and learn with other State VOADs, Feeding America was awarded National VOAD Member of the Year. As part of the Feeding America network, Bruce and our entire team here at the Kansas Food Bank are incredibly proud to be recognized with this award.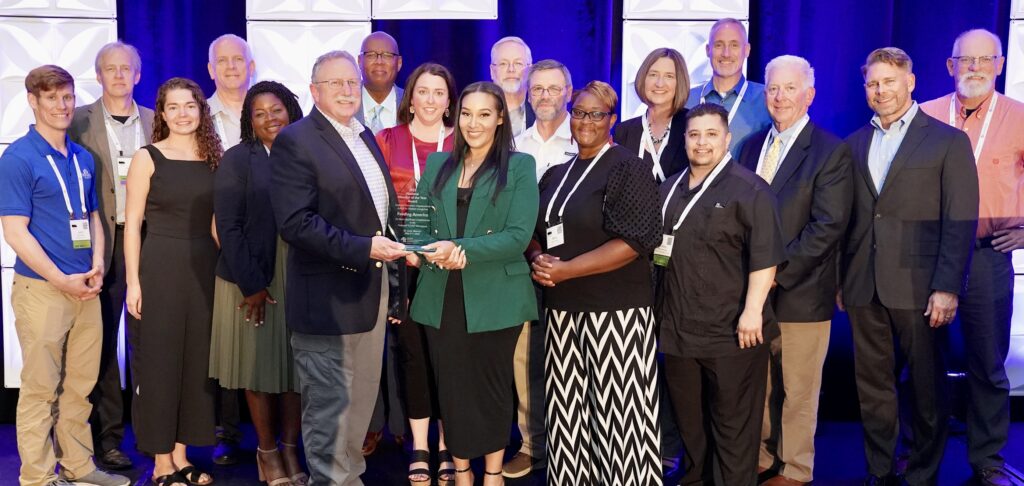 ---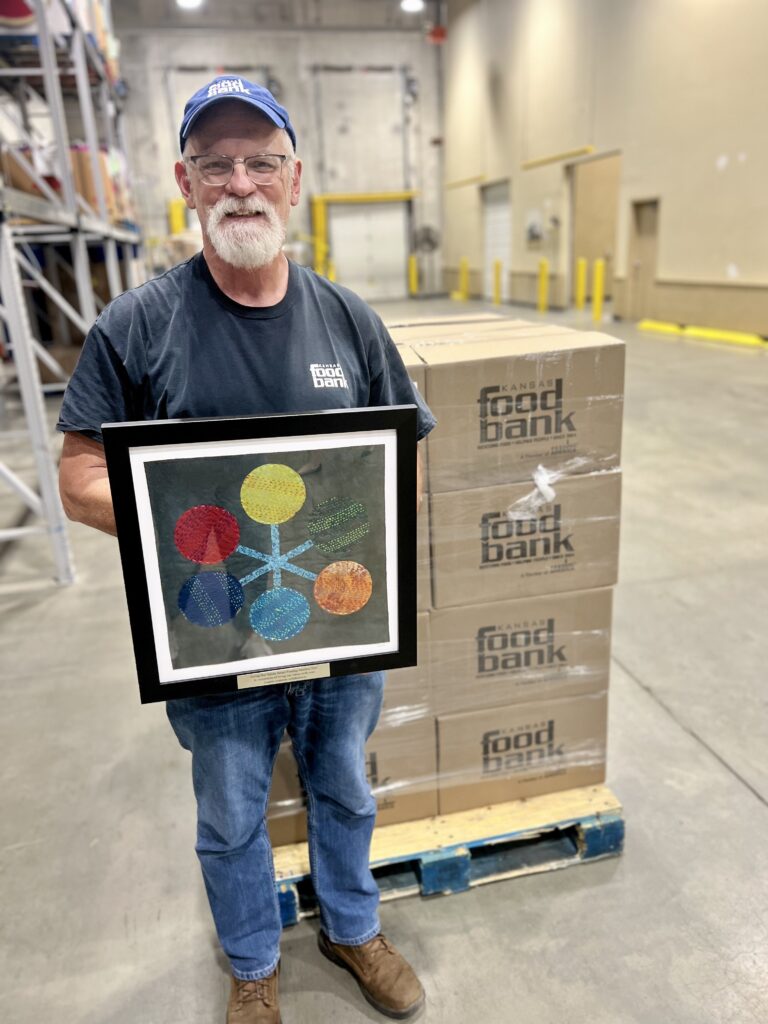 Additionally, during Feeding America's 2023 Annual Conference, The "Living Our Values Award" was presented by Feeding America's CEO Claire Babineaux-Fontenot to the Midwest Regional Disaster Preparedness group. The group is made up of 23 Food Banks in Kansas, Oklahoma, Missouri, and Arkansas, soon to also include Montana, North Dakota, South Dakota, and Iowa. The multi-state cohort enables participating food banks to better respond to the needs of disaster survivors through collaborative efforts and preparedness.
The Kansas Food Bank is extremely honored to work alongside other network Food Banks and organizations to serve not only communities in Kansas experiencing disasters, but those in neighboring states as well, and is committed to continuing this collaboration for years to come.
Bruce Bartel, Director of Operations at the Kansas Food Bank, accepted the award on behalf of the cohort, and is pictured here with the award.
The full list of organizations honored with the "Living Our Values" award includes:
Arkansas Food Bank
Arkansas Hunger Relief Alliance
Feeding Missouri
Food Bank for the Heartland
Food Bank of Eastern Oklahoma
Food Bank of Iowa
Food Bank of Lincoln
Food Bank of Northeast Arkansas
HACAP Food Reservoir
Harvest Regional Food Bank
Harvesters – The Community Food Network
Iowa Food Bank Association
Kansas Food Bank
Northeast Iowa Food Bank
Northwest Arkansas Food Bank
Ozarks Food Harvest
Regional Food Bank of Oklahoma
River Bend Food Bank
River Valley Regional Food Bank
Second Harvest Community Food Bank
Southeast Missouri Food Bank
St. Louis Area Food Bank
The Food Bank for Central and Northwest Missouri
Kansas Food Bank Director of Operations Bruce Bartel represents the Kansas Food Bank in the Disaster-Ready Midwest Region cohort.