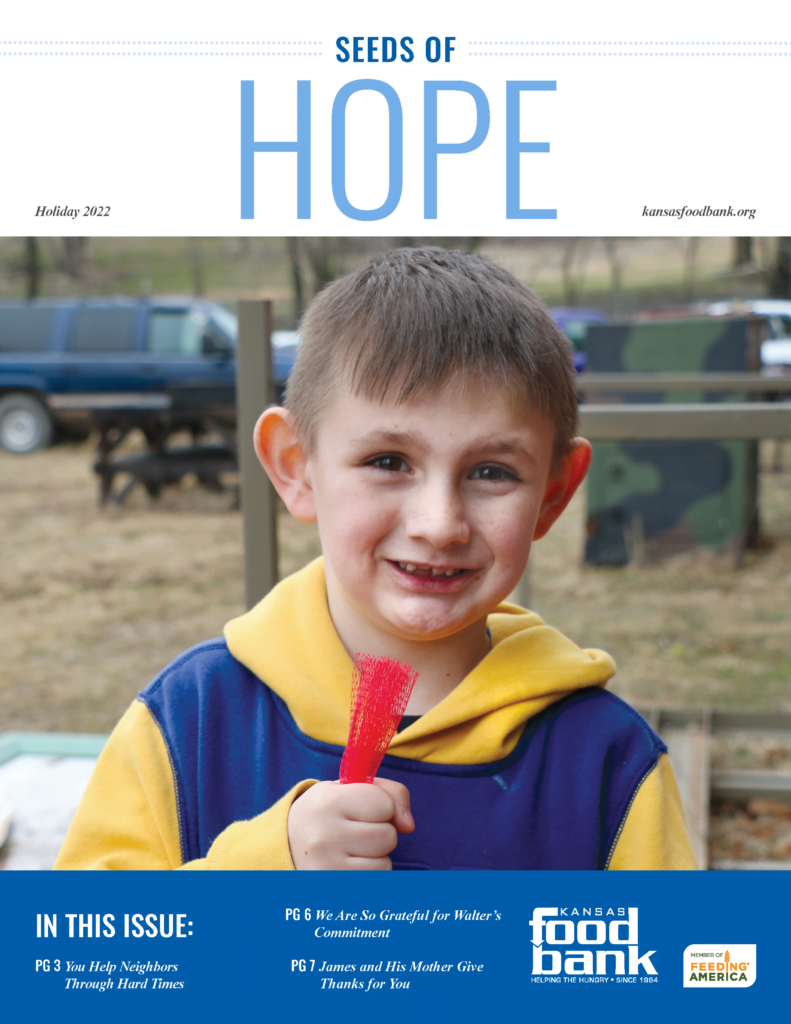 Dear Friend,
I want to take a moment to thank you personally for your partnership. As you are well aware, the past couple of years have been a true challenge. The Food Bank has had to adapt and expand our operations to accommodate an unimaginable need for food. So many people would have missed meals were it not for your support during these hard times.
As you sit down to a special meal with your loved ones this holiday season, I hope you remember the countless Kansans who are giving thanks for you and your generosity.
Your impact is illustrated in Billy's story on the next page. Billy is one of many people who continue to be financially affected by the aftermath of the pandemic. Also meet Phyllis on page 8. Although she is a senior in need of food herself, she perpetuates your generosity by volunteering to prepare meals for others.
These are just two of so many stories we hear on a daily basis. Hope is real, alive and well here in Kansas, thanks to you. You give me and so many of your neighbors something to celebrate.
As we look toward new challenges and opportunities in the coming year, I take heart knowing friends like you are in our corner. The pandemic showed me that Kansans care deeply for one another and will step up to meet the need. Thank you for that peace of mind.
Also, we encourage you to read our special Q & A with Feeding America's very own CEO Claire Babineaux-Fontenot on pages 4 and 5.
Please enjoy this holiday season, and again, thank you.
Happy Holidays
Brian Walker
President & CEO