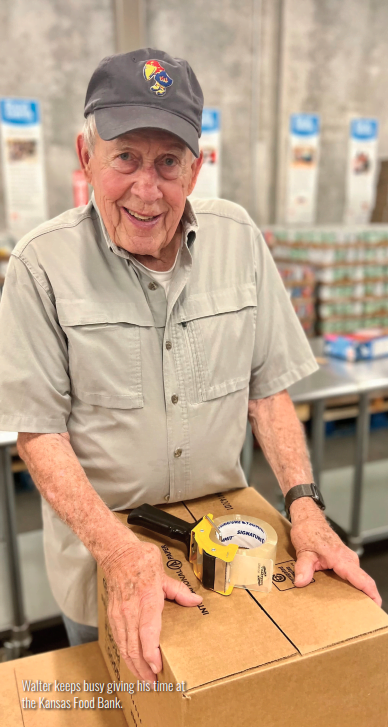 You never truly understand what our neighbors are going through until you start giving back and pay attention to your surroundings," Walter says.
On his first visit to the Kansas Food Bank, Walter remembers feeling both impressed by the scope of the operation and depressed by the need for food here in Kansas, which he admits he never noticed. In addition to spending time with his wife of 43 years, he knew he wanted to dedicate his free time in retirement to volunteering.
At 85, most folks Walter's age spend their golden years enjoying some well-earned rest and relaxation. But Walter does not operate that way. He was a busy young boy who started working as a salesman in high school. Walter continued in the field and eventually owned a sales business with his partner.
"I got to travel and meet some great people along the way," he remembers with a smile.
When he finally retired eight years ago at age 77, Walter wanted to stay active. He decided to come in to sort and pack food weekly. After taking a break from volunteering during the pandemic to protect his and his wife's health, he is considering increasing his commitment.
To anyone who might want to join the fight against hunger in Kansas, Walter emphasizes the importance of "understand[ing] that people are extremely vulnerable and could benefit from your compassion and the choice of giving."
Our sincere thanks to Walter for his effort to give back. Your heart and hard work are an inspiration!