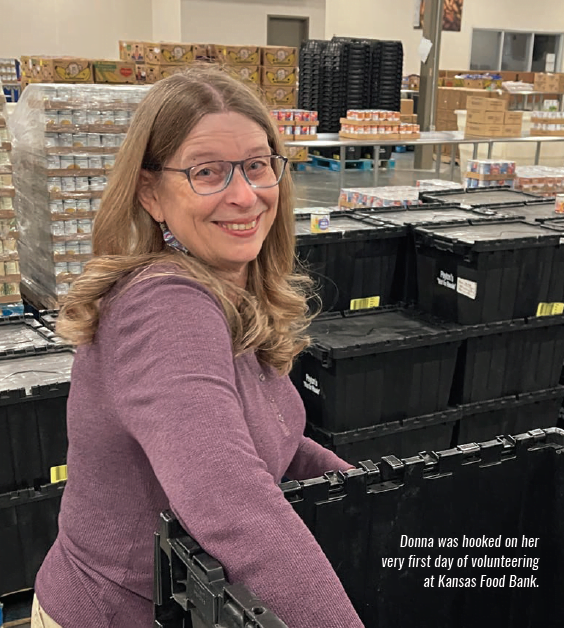 Retired from a long career as an International Admissions Officer at Wichita State University, Donna has a wealth of unforgettable experiences garnered in travels to more than 20 countries.
"If I had to choose my favorite places that I visited, it would have to be Paraguay and Sri Lanka. They have some of the friendliest people you could ever meet," she says.
Whether she is helping fill mobile pantry bags, backpacks for kids or sorting food to send to partner agencies, Donna is a truly dedicated partner of the Kansas Food Bank.
"It's a couple of hours, [a] couple of days a week and it is worth it," Donna says of the time she gladly puts in.
At 68, Donna is one of the Food Bank's many older adult volunteers who choose to invest their time helping others. Her 100-year-old father sets a fine example too, as he continues to volunteer with local charities serving families and seniors. Donna was introduced to the Kansas Food Bank through a student volunteer group. Since then, she volunteers at the Food Bank Mondays and Wednesdays.
"Having something sufficient to eat is a basic right," she says. "How can I not help? I should be doing more with helping others."
We want to send our warmest thanks to Donna and all volunteers who give from the heart to ensure our neighbors receive the healthy food all Kansans need!