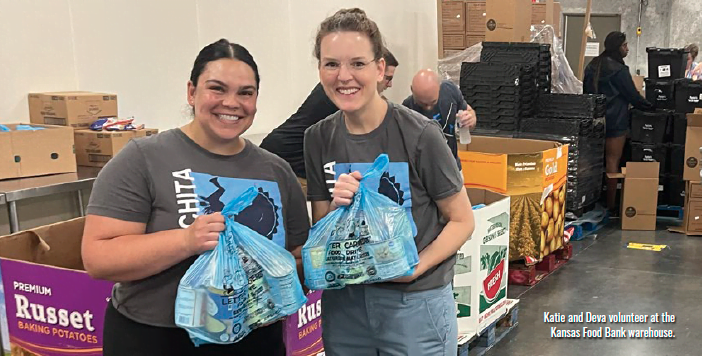 Each year, the resident and faculty physicians of the KUSM-W Family Medicine Residency Program at Wesley Medical Center schedule a "Team Meeting" for presentations,
team building — and a few hours of volunteering at the Kansas Food Bank.
"We needed something where we could all work together, and preferably, serve our Wichita and Kansas community," says Katie Kellerman, who oversees the annual event and gathers a team of physicians to give time at the Food Bank.
Deva Zamzow is one of those physicians. She and her husband moved to the area last year after getting matched for their family medicine residency. Wichita quickly became 'home' to Deva, and through volunteering with the Food Bank, she is deepening her roots in the community.
"You're just helping a tremendous amount of people," Deva says.
She says she finds the volunteer experience to be incredibly rewarding, knowing that their collective volunteer efforts have a statewide impact.
"Our team has a really good time volunteering at the Food Bank – enough that we don't even question whether we want to volunteer again for our next get-together,"
Katie says.
Katie shares that patients are also more likely to be referred to the Food Bank and its partner agencies. When their family physician volunteers, they can see firsthand what a critical asset the Food Bank is to their patients' health.
Thank you, Katie, Deva and all our caring volunteers who join together to help make sure every neighbor has access to nutritious food!