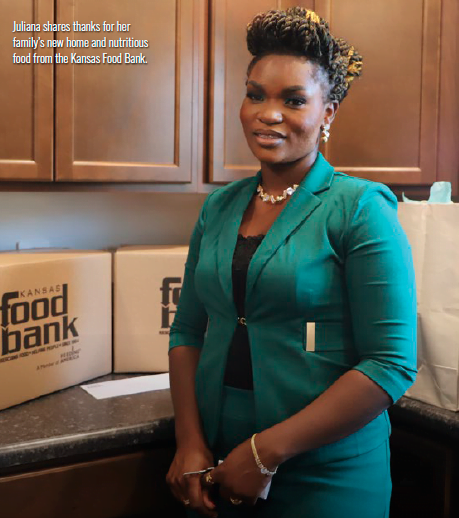 Juliana is a shining example of hard work and determination. After moving to the United States to provide a brighter future for her children, she's grateful for friends like you who help put food on her family's table while she works to get firmly on her feet.
Juliana is a proud mother to a daughter and a son who continue to be her inspiration and motivation to keep striving for a better life. She's working while also taking classes so she can be qualified for a better position in medical services.
Thanks to Habitat for Humanity and their partnership with the Kansas Food Bank, Juliana and her children recently moved into a new home with a fully stocked pantry and fridge with fresh, nutritious food.
"I walked in the house and into the kitchen and just said 'Thank you so, so much and I appreciate everything you did for me'", Juliana recalls.
Thankful for the food you helped provide, Juliana was able to make homemade baked goods using ingredients from your gifts of nutritious food.
"I'm grateful to you for my life," Juliana says to Food Bank supporters like you. "May God bless you with more blessings to help others."
We have been able to provide wholesome groceries for 16 home dedications so far this year! This wouldn't be possible without the help of caring friends like you — and we couldn't be more grateful. Thank you for your invaluable support and helping ensure more of our neighbors have access to nutritious food this holiday season and beyond.