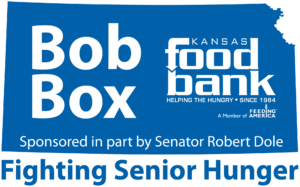 Press Release
Click here to download the complete Press Kit [PDF 1.7MB]
Brian Walker's Comments at Press Conference [PDF  300KB]
Support Bob Box!  Make a donation today.
Kansas Food Bank to Announce Bob Box Program
Wichita, KS – The Kansas Food Bank will be announcing its new program targeted towards senior hunger on Friday, September 14th.  Sponsored and endorsed by Senator Robert J. Dole, the program will help seniors who often face difficult choices between paying medical and utility bills and buying food.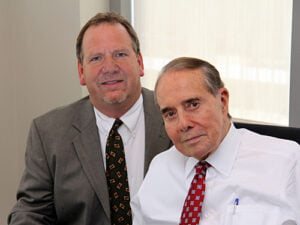 Simply titled "Bob Box", this program is geared towards providing a safety net for seniors who experience food insecurity.
Senator Dole explains, "Growing up in a small town, I was instilled with values where one doesn't think twice about rallying around a neighbor in need.  The Bob Box is designed specifically to rally around our senior neighbors in need."
This new program has been designed with the needs of seniors in mind, and incorporates a new model delivery system that respects their character and dignity, while making access easier.
Volunteers will start assembling the Bob Boxes immediately following the press conference.  Distribution will start in 24 Northwest Kansas counties by years end.  AARP Kansas will be assisting the Kansas Food Bank with marketing to promote the Bob Box campaign as it begins delivery and distribution in the initial counties to inform seniors about the program and let them know where a Bob Box can be received in their community.
A press conference will be held:
WHEN:  Friday, September 14th, 2012, 10:00 AM
WHERE:  Kansas Food Bank, 1919 E Douglas, Wichita, KS
PRESENTERS:
Brian Walker, President & CEO, Kansas Food Bank
Mr. Walker will explain the Bob Box program.
Larry Steckline, "the voice of Kansas Agriculture", Steckline AgReport Commentator
Mr. Steckline, a personal friend of Bob Dole, will read the Senator's statement.
Maren Turner, AARP Kansas Director
Ms. Turner will describe AARP's marketing commitment to this project.
About the Kansas Food Bank
The Kansas Food Bank collects and distributes donated and low-cost nutritious food to more than 500 hunger relief partners in its 85-county service area. Last year more than 11 million pounds of food was distributed, helping to feed nearly 137,300 different Kansans. Hunger-relief partners include food pantries, soup kitchens, shelters and the Food4Kids backpack program, Kids Kitchens after-school meal program and senior box programs. In addition, the Food Bank takes a leadership role in identifying and addressing hunger needs affecting Kansans. For more information, visit www.kansasfoodbank.org.
Press Coverage