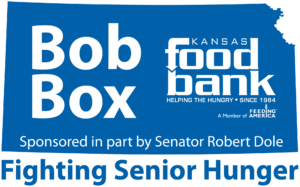 Donations / Support Page
I'd Like to Support Bob Box!
There are many ways you can help support the Bob Box program, and help us in the fight to end Senior Hunger in Kansas:
Advocate for the program

Tell people about Bob Box.  Spread the word in your community about how Bob Box can help give food insecure seniors a hand up, not a hand out.
Volunteer to pack boxes

We need help to make all those boxes!  Call us and ask about volunteer opportunities:  (316) 265-FOOD

Call or mail in a donation:
Kansas Food Bank
ATTN:  Bob Box
1919 E Douglas Ave
Wichita, KS  67211
(316) 265-FOOD
For More Information About Bob Box
Visit our Bob Box program page, or contact Debi Kreutzman.