With less than a week to go before school is back in session in Wichita, this time of year comes with many added costs to prepare kids for the new year for lots of families already operating on a tight budget.
Last week, we celebrated the grand re-opening of the 21st & Maize Dillons in Wichita store alongside many of our community partners, and were presented with $15,000 from Dillons to help aid many families this fall! $10,000 of the gift will help provide weekend packets of food for food-insecure kids through the Food 4 Kids program, and the other $5,000 celebrated the kick off of the Back to School food drive that Dillons is hosting now through Saturday.
The additional funds will be used to purchase food that will be distributed alongside the donated items collected to our network of partner pantries.
---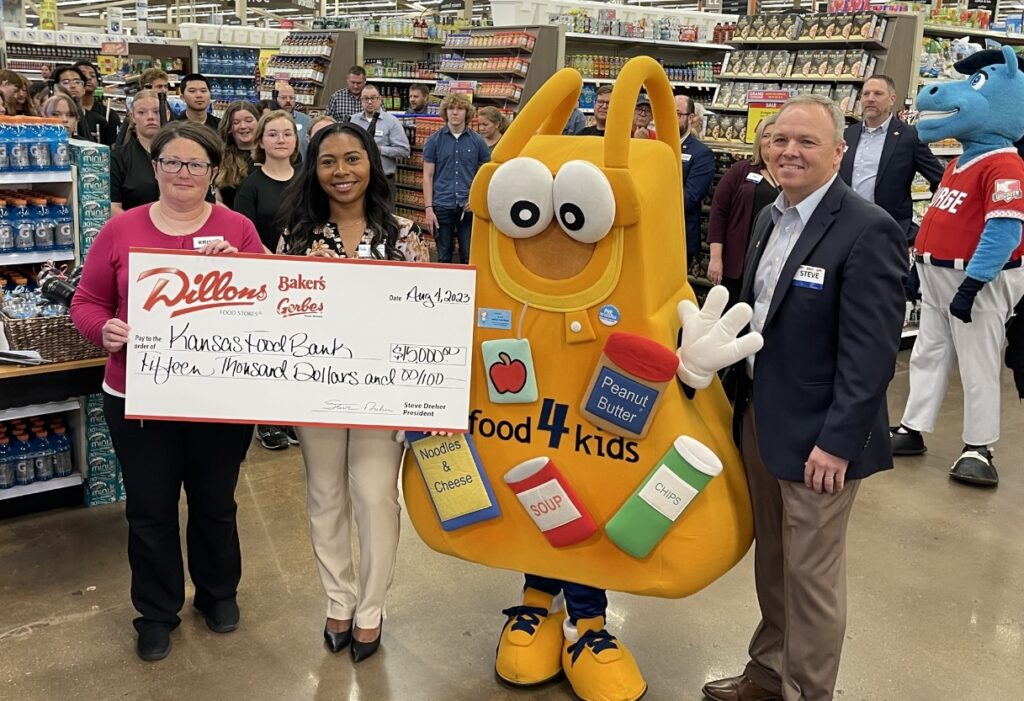 If you'd like to participate in the Back to School Food Drive, just pick up some of our most-needed items at your local Dillons store, and drop it in the marked bin on your way out. Items include:
Peanut Butter & Jelly
Canned Meats (Chicken, Tuna, Spam)
Helper Meals
Pasta & Cans of Pasta Sauce – no glass, please!
Canned fruit & vegetables
We are so thankful for the commitment and support from our partners at Dillons, as part of their Zero Hunger Zero Waste program, to end hunger & eliminate waste. Dillons has been a long-time partner of the Kansas Food Bank and our mission to end food insecurity across Kansas, and look forward to seeing the impact their generosity has on Kansas families this fall.