Program Description
Plant a Row for the Hungry is rooted in the tradition of sharing a bountiful garden harvest with others. It is a people-helping-people program for home gardeners to help the hungry in their own communities.
The cooperative effort between the Sedgwick County Master Gardeners and the Kansas Food Bank is making it possible for the individual home gardener to make a tremendous impact on the widespread hunger problem in Kansas. During the growing season, the Kansas Food Bank will pick up your produce from local garden centers which have volunteered to serve as convenient drop-off sites.
One pound at a time…one row at a time. Together we make a difference.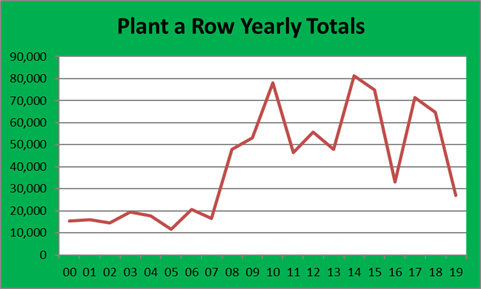 COVID-19 / 2020 Growing Season
The Plant a Row program has been suspended for the 2020 growing season to allow time for the current pandemic situation to resolve.  We look forward to seeing all of your smiling faces and green thumbs next summer!
For More Information
Visit the Sedgwick County Extension Office site, the National Plant a Row site, or contact Kevin Enz.
 Other Resources
In other parts of the state, visit Ample Harvest to look for a local pantry near you, or to register yourself so pantries can find you to take your excess produce donations.