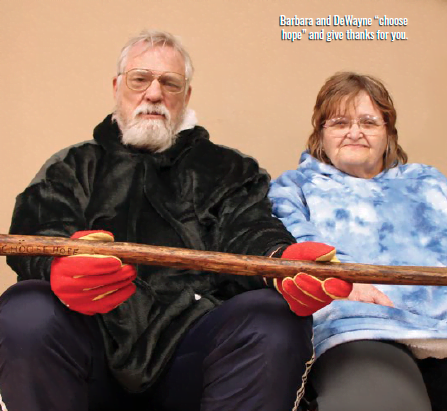 "Choose HOPE."
These words, inscribed on the cane he uses daily, are a message DeWayne — and his wife, Barbara — live by. The two are working hard to stay healthy and thanking you for helping put food on their table.
DeWayne, a U.S. Army Veteran, and Barbara have been married for 36 years and have spent a lot of time over those years giving back to their community.
Before retirement, Barbara worked to combat hunger by providing food assistance to neighbors through her job with Meals On Wheels. Dwayne had also been volunteering for Red Cross and several organizations until a back injury prevented him from continuing his service.
Thankfully, the couple can access the wholesome food they need to heal and support their health through one of the Kansas Food Bank partner agencies.
Barbara and Dwayne receive food boxes from the First Baptist Church food pantry, which has been a tremendous lifeline for the couple. The box is filled with fresh produce and nutritious staples.
"It helps us get things that we otherwise couldn't afford," Barbara says.
In addition to partnering with the First Baptist Church and First Christian Church pantries in Chanute, we deploy our mobile food pantry in Chanute three times per year serving an average of 260 households each distribution. 1 in every 8 in Neosho County are considered food insecure.
Thank you for helping put healthy food on every Kansan's table. Your generosity is shining a bright light of hope across our community this holiday season!